Program Notes: A letter from Anthony Roth Costanzo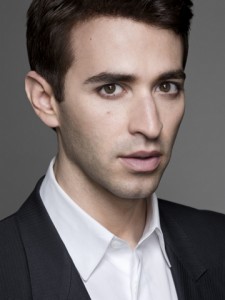 As I enter my 20th year of professional performance, I have been reflecting on the most resonant musical moments throughout my development as a singer. From my beginning as a Broadway baby to my now daily dances with Handel, I have realized that there is a lot of music in between those two poles which has shaped me. This program is a collection of personal parcels, each one having a distinct and meaningful place in my trajectory.
As an eager 16 year old planning my first-ever recital, I was immediately taken by the beauty and depth of Henri Duparc's songs and was simultaneously fascinated by his systematic destruction of his entire oeuvre, apart from a small handful of remaining works. I have chosen to start this recital with the same three songs that began my first recital as a budding countertenor.
Before I could even fathom the idea of vocal recital, at 13, I was asked to do my first role in opera: Miles in Benjamin Britten's The Turn of the Screw. After years of musical theater, I found the challenge and the emotional complexity of Britten's work exhilarating. As I entered into Britten's universe, I discovered classical music's ability to plumb the depths of human experience with uncanny expression, and it was this discovery that sent me down the road to becoming a classical singer. Britten not only holds a special place in my artistic journey, but also in the history of countertenors as he is the first composer ever to have written an operatic role specifically for countertenor as opposed to castrato — that of Oberon in A Midsummer Night's Dream. His transcriptions of old English folk songs showcase his agility in wafting between subtly ironic, flat out silly, and poignant.
One thing I've learned about being half southern Italian and half Hungarian-Jewish is that while I may know how to eat well, I have a lot of guilt with which to contend. Luckily, both of my parents are psychologists, so I was able to focus mainly on the food. I realized recently that apart from the occasional chicken paprikash, the only connection to my Hungarian heritage I can remember is a miniature bust of Liszt that made its way onto the dresser in my childhood bedroom. When I learned about Liszt's lore in college, his emotionally virtuosic playing and its palpable effects, I was intrigued. Since then I've been trying to put together a group of his songs that felt natural to me as a performer, and it wasn't until now that I concocted this felicitous combination of his German settings. Connected, but not entirely the same as this Hungarian sense of romanticism, is the characteristically Italian state of impetuosity. Though none of the three Italian arias I am presenting was actually written by an Italian, they were all written for and performed by Italian castrati. These physically altered superstars of their era gave the art of opera wings, and along the way generated a body of work which never ceases to entrance me. Both Mozart and Handel offer endless opportunities to dig into characters with harmonic shifts, textual delineation and of course ornamentation carefully cooked-up by the singers themselves. These three arias represent the foundation of my work as a singer: executing the highest of technical demands while simultaneously rendering emotional arcs tangible.
At six years old I was no good at reading sheet music. My unusually creative piano teacher, Pei-Fen Liu, thought that perhaps instead of trying to play the notes, I'd have an easier time taking my fingers out of the equation. So I began to sing, and though I'm not sure my sight-reading improved, I quickly realized how much I enjoyed singing. After humming notes and singing solfège scales, Pei-Fen decided it was time for the next step. She pulled out a book of Gershwin songs, and away we went. I became so enthusiastic about Gershwin that I used to sit in my room and listen to any recordings I could find. When I discovered Ella Fitzgerald, I wanted so badly to understand how she wove her magic that I remember spending hours trying to copy down each syllable of scat that she added to the tunes she was singing. By the time I was eight, I told my parents that I was ready to give this a go in public. Wonderfully supportive as they were, they helped me to find an audition at a community theater. Filled with anticipation, and a joy of music, I walked into the audition room with a Gershwin tune prepared. Little did I know that I was about to embark upon a life of music and a craft which challenges and moves me every day. As I opened my mouth to sing the first few bars of "Summertime" that day, I couldn't have imagined that it would close a recital like this one with the VRS.
-Anthony Roth Costanzo