Myron Story, Rob Baker, Holly Sykes and Larry Clausen, VRS subscribers & donors, pictured below at the Schubertiade, in April of 2016.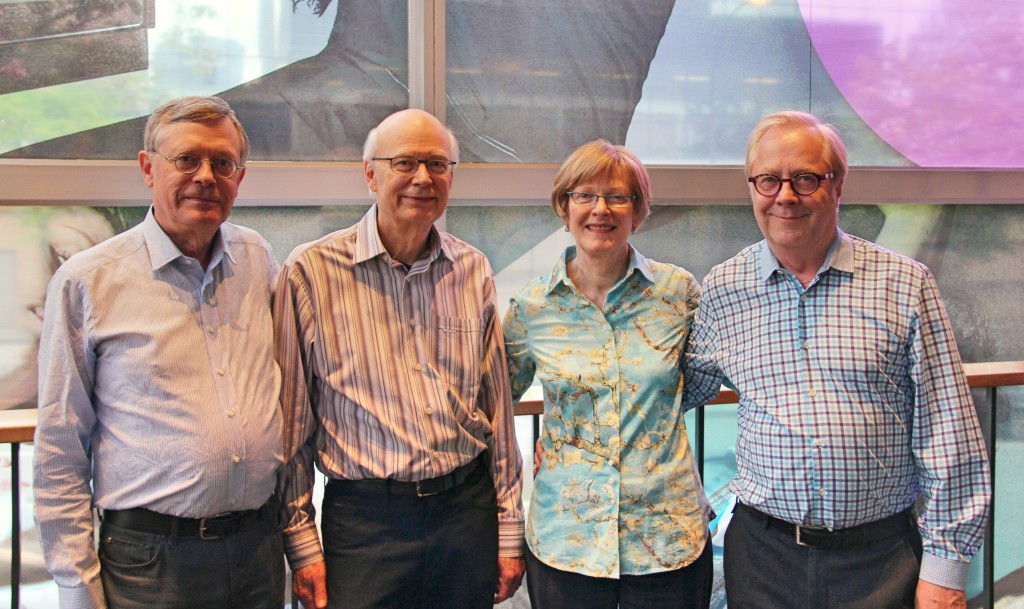 Rob Baker & Holly Sykes
It's hard to believe that we've been VRS subscribers since the 2000-2001 season–when Renée Fleming and Dawn Upshaw appeared at the Chan in the same week!
To us, the VRS represents excellence and exceptional value.  We trust Leila's uncanny ability to ferret out the next generation of great artists.  The relationships VRS develops with these young talents means that we get to hear them as their careers develop, when they can easily choose to perform where they wish.
Attending a live performance is a privilege and always exciting–whether it's an extraordinary young artist or one of the giants of the musical world.
Being happily retired, we now travel to Vancouver more often to hear more amazing music.  Our lives are enriched by the experience and by getting to know the hard-working, friendly folks who make this possible.
Thanks, VRS!
Larry Clausen and Myron Story
Larry Clausen lives in Vancouver and Calgary. His cultural roots in Calgary are very deep and now as he spends more time in Vancouver, he embraces the VRS and regards us as an amazing presenter.
Myron Story has a lifetime passion for the piano and continues to take lessons. Recently relocated from Calgary, Myron is quickly adopting the city, including the VRS.
Larry and Myron journey to Paris every couple of years. There they enjoy performances in glamorous concert halls and charming churches. The VRS gives us a taste of Paris at every performance.
Your Gift at Work
It may surprise you to learn, that ticket revenues cover only half of the costs associated with bringing you the calibre of concerts you've come to expect from the VRS. And in fact, in this regard, the VRS is doing very well – ticket sales do cover half of our costs, and for a non-profit arts organization, that's pretty great.
But just like everything else in this world, the costs of presenting increase year over year. So while 50% cost recovery is pretty great, it's still a challenge to make sure we have enough to continue following our passion for sharing the very best classical music we can find with you.
Your gift:
helps keep ticket prices as affordable as possible. Did you know that you can attend a VRS recital for as little as $21, even less if you're under the age of 35?
allows us to engage in youth, senior and community outreach. The VRS offers free school concerts and Master Classes, and whenever possible, takes artists out of the concert hall and into the community for performances at community centres, the central branch of the Vancouver Public Library, and at seniors' facilities.
enables us to enhance your concert-going experience by offering Pre and Post-Concert Talks. Come early for a pre-concert lecture or stay late for an interactive chat* with our musicians.
creates a new generation of classical music lovers. The VRS Youth Club gives children in Grades 3 through 12 the chance to attend live recitals for as little as $13 a ticket (unrestricted seating), and gives them access to tailor-made packages introducing them to the music and the artists, along with an invitation backstage to meet the artist(s) following the concert.
When you make a gift to the Vancouver Recital Society, you make it possible for us to present the finest performances by the world's most celebrated artists and the next generation of musical greats, right here on your doorstep.
*Post-Concert talkbacks occur after each concert in the Next Generation Series at the Vancouver Playhouse.