An in-depth, personal account on Miloš Karadaglić – spanning his journey from an eight year old learning guitar in Montenegro to how he has become "the hottest property in classical music today." (West Australian)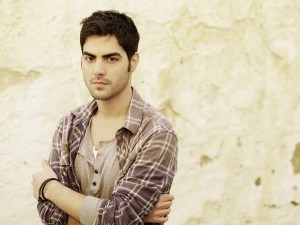 If you were asked to name classical music's most legendary guitar players, you'd probably come up with Andres Segovia, Julian Bream and John Williams. Miloš Karadaglić, born in 1983, who is already being hailed by fans and critics for his brilliant technique and transcendent musicality, may well be on his way to joining them. With two recordings for Deutsche Grammophon, he aims to start bringing a new sense of excitement, and new waves of listeners, to the classical guitar.
"My motto is: there are no problems, only challenges!" declared the young musician from Montenegro, a small country on the Adriatic Sea which once formed part of Yugoslavia.
Coming from a homeland with no real classical guitar tradition and a population of only 600,000, the challenges faced by Miloš if he was to climb the international guitar-playing ladder were daunting. At least he comes from a family of music lovers, even though none of his relatives are musicians (both his parents are economists, and his younger brother is currently studying for a Masters' degree in economics in Madrid).
Before he first wrapped his fingers round a guitar, he had already displayed a natural aptitude for singing.
"Music was very much loved in my family, by my parents and my grandmother," he recalls. "They really encouraged me to sing because the voice is something that comes most naturally. Then when I was eight I said 'I really want to learn properly and go to a music school', and there was only one place, which was the music school in Podgorica."
Miloš comfortably passed the audition, but then came the problem of what instrument he should study. He picked the guitar because it proved to be the most practical choice.
"I liked the piano very much but my parents said it was too expensive to have one. Then I liked the violin too, but they said 'oh, that would be really painful for us!'"
Guitar-wise, the first, and unlikely, object of his desire was an ancient instrument which his father had once been given by his older brother.
"It was a really ugly old black guitar which had been forgotten about and was sitting on top of the cupboard in my parents' bedroom," he recalls. "It had missing strings, it was all dusty and it was terrible. I said 'can you give me that, I just want to feel it.' I vividly remember this scene, the moment when I picked it up for the first time and pretended to be a rock star. I said 'this is what I want to play'."
But he didn't play it in a rock 'n 'roll style. Miloš studied strictly classical guitar from day one, according to the program laid down by the state music school.
"It was still kind of Communist then, so there were no private teachers. If you were talented you went to the music school and had sol-fa teaching for the voice, and worked on the instrument you had chosen. This was for six years."
The early Nineties weren't the best of times for the Balkans. Although Montenegro didn't suffer the kind of horrors that were visited on Bosnia or Kosovo, it didn't escape unscathed.
"War was happening all around," says Miloš. "Montenegro was a part of Yugoslavia and politically it wanted to stay in Yugoslavia, so it was dragged into the conflict. It was the scariest time. I remember the father of some children I played with was killed in the war, so it affected everybody indirectly. I was lucky to have the most unbelievable parents. All the shops were empty and everything was so depressing, but with the little they had they tried to make my brother and myself feel like princes."
For Miloš and his family, music provided reassurance and escape: "I remember once there was a power cut and we were trying to keep warm. My mum said 'why don't you bring your guitar and play something for us?' It was like the music kept us going."
Meanwhile, Miloš's playing was developing at a stunning speed. He had never been afraid to perform in public, and as his skills improved he was quick to display them in front of audiences. He had begun making appearances in major concert halls by the time he was 14.
"It was all happening extremely fast and there was a great sense of achievement. I was thrown into concerts and given ridiculously hard pieces to play, but I coped and I always loved it. As soon as I could play a piece I had to play it in front of a thousand people. I think all these experiences in my childhood not only made me a happy person, but also left me equipped for whatever is happening right now. Without the audience I am not complete. The audience makes me come alive."
During the war years, the Montenegrins felt isolated from the outside world and weren't able to travel beyond their own borders. But at last the hostilities ceased, and the restrictions eased. In 1996, Miloš was invited to play a concert in Paris, and his trip there remains one of his most special and magical memories.
"I just played a small concert in Paris, but it was my first chance to get out of my country and see the happy Western world," he says, lighting up at the recollection. "I remember my mother and myself walking around the streets of Paris, and suddenly we were in the Champs Elysées. It was just before Christmas and the whole city was lit up. I was just drawn to the shops and their windows. I thought 'my God, this is how life should be, in full colour.'"
It was in Paris too that Miloš bought his first serious guitar, a Jose Ramirez instrument would that help him take his playing to the next level. "My parents gave all their savings so I could buy that guitar," he says. "It's another reason why I see Paris as such a magical place."
Another turning point came when he travelled to Italy to meet the classical guitarist David Russell, who was giving masterclasses. The ambitious Miloš wanted to measure himself against one of the guitar's top practitioners.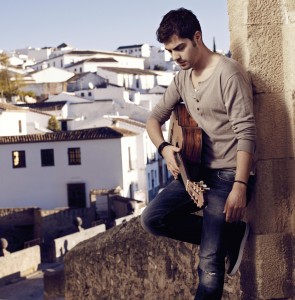 "There was a big international competition going on at the same time," he remembers, "and all these older students were watching this kid playing so fast and so clean, and I thought 'hmm, they're looking at me!' I started to feel important. Then I played for David Russell, and he said I was very good and should keep working."
When Miloš asked where the best place was in the world to study classical guitar, Russell promptly advised him to go to London and aim to enroll at the Royal Academy of Music, as Russell himself had done.
The advice struck home. Miloš made the fateful decision that he would specialize in music for his next two years at secondary school.
"It's a huge choice to make when you're 14, but that's how the system works. Everyone was saying 'he must do music', but on the other hand I was also a good student in science and the humanities. But I decided to dedicate my life to music."
Determined to get himself to London and the RAM, Miloš applied himself single-mindedly to improving his technique and building up his repertoire, winning every available competition in Yugoslavia and taking additional lessons in Belgrade. He had gone as far as he could go in his homeland.
"I decided I would send my material to London. I chose five of my best pieces and recorded a tape of them, and sent it to the Royal Academy. After two months I hadn't heard anything. My mother said 'you're only 16, you can try again next year', but I refused to accept it."
Plucking up his courage, he telephoned the Academy, and asked what had happened to his application: "The lady said 'wait a minute', and then she came back and said 'it's wonderful news! Didn't you get our letter? You've been accepted, the head of studies Michael Lewin will teach you, and you will have a scholarship of such-and-such amount of money. See you in September, bye!'"
So, just turned 17, Miloš found himself starting a new life in a strange city. His father accompanied him to London, and was there to give his son a shoulder to cry on when the enormity of what he was about to embark upon briefly overwhelmed him. Fortunately, his teacher, Professor Michael Lewin, understood what he was going through.
"He was the nicest person," says Miloš, "and he said 'if I didn't know that you are more than good enough to do this, I wouldn't have done this to you and your family because I know what it means. We'll take it one step at a time and you will achieve everything'. For me, from then on, everything was fine."
Despite his undoubted gifts, Miloš quickly discovered that he didn't know everything about the classical guitar after all. His teachers in Montenegro hadn't been true guitar specialists, and various imperfections had crept into his technique.
"Michael Lewin gave me a little study by Fernando Sor, and the Sor studies were pieces I had digested in my first year of guitar playing. Then we had the lesson, and I realized that actually I could not do everything that he asked me to. I had to start again and listen and work. Often Michael had to slowly adjust my hand positions, while still preserving the spirit of the music. For the next four years at the Academy I worked and practiced – so many levels, so many different concerts, deadlines and preparations. It was very intense and I didn't do anything apart from practicing and sleeping."
Eventually, Miloš graduated with First Class honours in June 2004. Then he continued his studies with a two-year Masters' degree in Performance, in which he achieved a Distinction. Following that, he became the first guitarist ever to be made a Meaker Junior Fellow of the RAM, which gave him a further two years' breathing space to study and perform.
Emerging into the world of professional musicianship, he notched up prestigious appearances at the Lucerne Festival, the Wigmore Hall and the Purcell Room. He had also brought his prize-winning ways to London, collecting the Ivor Mairants Award in 2002 and the Julian Bream Prize (awarded by Bream himself) in 2005. He was also the first guitarist to win the Prince of Wales' Prince's Prize.
When planning for his debut disc for Deutsche Grammophon (Mediterraneo), Miloš prepared himself with typical thoroughness. Rather than merely assembling a batch of popular guitar pieces, he devised a theme for the album which reflects his own history and experiences. He is, as he points out, from the Mediterranean region, but for him that doesn't just mean he should play guitar music from Spain.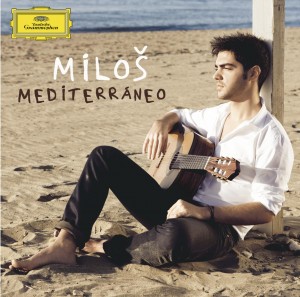 "The guitar was brought to Spain by the Moors, and has a huge Arabic influence," he explains. "My part of the world and the eastern Mediterranean were heavily under the influence of the Ottoman empire for 500 years, so there is a clear connection between the eastern and western Mediterranean. I am exactly in the middle of them, and I want to present that on [the] recording."
Therefore, the material ranges from Granados, Albeniz and Tarrega ("to represent the Moorish Spain") to pieces by the Greek composer Theodorakis, some Turkish music, and new arrangements of Montenegrin folk songs. For good measure, "we have a Boccherini fandango which will even use castanets." Mediterraneo was released in 2011 and topped the charts throughout the year all over the world. Miloš's recently released his sophomore album Latino, where his inspiration moves from the Mediterranean to the sultry sounds and passion of Latin America.
Summing up his feelings about the future, Miloš says:
"There isn't a more accessible or more beautiful instrument than the guitar. The guitar repertoire is wonderful and there is a lot of it. It needs to be brought out of its niche and to have a renaissance. This is my mission!"
source: www.milosguitar.com
---
Miloš Karadaglić plays in recital for the VRS on Sunday, February 17, 2013 at the Vancouver Playhouse at 3:00pm
Tickets start at $25 and can be purchased online or by phone at 604-602-0363