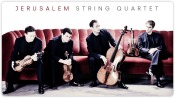 In the beginning… first violinist and founding member Alexander Pavlovsky explains: "We have started to play together at 1994, and our average age then, was 16. That is a very unusual age to start playing in a string quartet. We grew up together, spending about six months together since the very beginning.
I believe all this gave us a big advantage in a very special sound blend. Musically, we can do many interesting and spontaneous things without really spending a lot of time and discussing them. When I listen to our recordings, many times I feel that we are very close to the golden balance between an ensemble unity and the very personal playing of each member."
Controversy: the JSQ has been the focus on protests and political attacks for its alleged connection to the government of Jerusalem. "The protests that happened were based on a wrong assumption," says Pavlovsky, "that we are presented, employed or supported by the Israeli government. That is categorically untrue."
He continues, "As musicians, our commitment is to performing the music at the highest level possible, not to make political statements. We don't see ourselves as qualified to do that. The protests have not changed that and have not pushed us into getting involved as a group."
Introducing: a few words from the JSQ press release (February, 2011) announcing the appointment of violist Ori Kam: The Jerusalem String Quartet is delighted to announce, that after period of searching for Amihai Grosz's successor we have now arrived at the decision to appoint Ori Kam as the new violist of the ensemble.The JSQ had a long personal and professional relationship with Ori Kam dating to the early days of its career. Having performed concerts with him both in the US and Europe last autumn, we are happy to welcome him as permanent member of the quartet.
(sources: Michigandaily.com, welltempered.wordpress.com, jerusalemstringquartet.com)