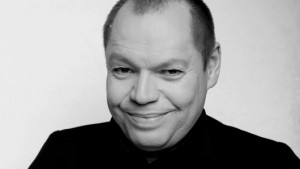 For a good many years I have been an ardent fan of the wonderful German bass-baritone, Thomas Quasthoff.  I had the good fortune to hear him in recital at the Wigmore Hall and remarkably, despite his 4ft height he was a towering presence on the stage.
He was a "thalidomide baby" who soared above his physical challenges, and became one of the greatest baritones of this generation.  His lieder singing was powerful and communicative as you will see from this video.
Thomas Quasthoff sings Schubert Winterreise
He was also a jazz singer of repute as you will hear in this video where he performs the great "Georgia on my mind".
Thomas Quasthoff sings Georgia on my mind
The Vancouver Recital had engaged him for a performance at the Chan with the Freiburg Baroque Orchestra on February 15, 2003. Regrettably, he had to cancel the tour due to some health challenges at the time, and we have not had another opportunity to engage him.
Last Wednesday he announced "After almost 40 years, I have decided to retire from concert life. My health no longer allows me to live up to the high standard that I have always set for my art and myself. I owe a lot to this wonderful profession and leave without a trace of bitterness".
I read a review of a concert of his at Carnegie Hall in which he is reputed to have shouted at a few people in the audience who tried to rush away right after the last song (the reviewer said "probably to catch the last bus to Hoboken!")…"wait! I haven't finished singing!".  Now that takes courage.
Thomas Quasthoff will continue to teach and to run his Lieder Competition.  He is a one-of-a kind.
There is an illuminating interview he did with the British music journalist, Norman Lebrecht on the BBC.  Here is the link.  Make a nice cup of tea, settle back and enjoy.  
Leila