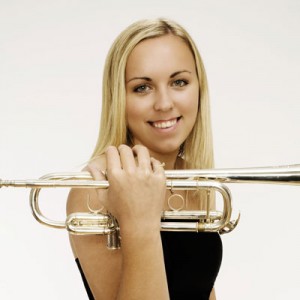 Tine Thing Helseth, trumpet
Havard Gimse, piano
Next Generation Series at The Vancouver Playhouse
Sunday, February 5, 2012

Bohuslav Martinů: Sonatina for Trumpet and Piano
Bohuslav Martinů followed in the footsteps of his compatriots Dvořák, Smetana, Janáček and Suk in the incorporation of elements from Bohemian and Moravian folk music into his works. Martinů was driven from his homeland by Nazi oppression to settle in America and never returned to his native country. He arrived in New York in 1941 and found himself disoriented, unknown, and barely able to cope with the new language. Salvation came in the person of conductor Serge Koussevitzky, who offered Martinů a commission for a major work (his First Symphony) to be premiered by the Boston Symphony.
Martinů was an enormously prolific composer, particularly in the realm of chamber music. He left multiple examples of everything from duos to nonets with a single exception (no octets). The Sonatina for Trumpet and Piano dates from January of 1956 while Martinů was living in the Great Northern Hotel on 57th Street in New York and commuting to Philadelphia to teach at the Curtis Institute. This seven-minute, one-movement, tuneful work is free in form and employs elements of folk dance, jazz, chorale and neoclassicism.
George Enesco: Légende
Most concertgoers tend to think of Georges Enesco (the commonly Gallicized form of George Enescu) as the composer of a famous Romanian Rhapsody (actually, he wrote two) and leave it at that. However, Romania's most outstanding composer was also one of the twentieth century's most unfairly neglected musical geniuses. He was a virtuoso violinist, a conductor, a teacher, an administrator, and a tireless champion of music in Romania. His centenary in 1981 went largely ignored outside his native country, but so highly respected is he in Romania that there is a festival, a museum, a composer's prize, a violin competition, a symphony orchestra and even a town (his birthplace) named after him.
Enesco wrote the Légende in 1906 as a competition piece for students at the Paris Conservatoire and dedicated it to Merri Franquin, head of the trumpet department there. (Enesco also wrote, about the same time, competition pieces for flute, viola and harp.) According to Noel Malcolm, in his biography of the composer, the Légende "awakened an interest on Enseco's part in the trumpet's powers of soft and muted evocative expression." The title suggests something along the lines of a ballad or rhapsody – a story told in music, though anything more specific is left to the listener's own powers of imagination. The trumpet is treated in the three slower, reflective sections in a lyrical manner almost as if it were a violin, while virtuosity is demanded in the two brief intervening passages.
Rolf Wallin: Here
Born in Oslo, September 7, 1957; now living in Oslo.
Rolf Wallin – teacher, music critic, essayist, trumpet player and above all composer – is one of the leading figures on Norway's contemporary music scene. He was the first composer in residence with the Oslo Philharmonic (2006-07), which performed one of his most important works, Act, on a European tour. When Oslo's new opera house opened in April of 2008, Wallin's dance piece Urban Bestiary was the first work to be heard there. Music inspired by computer systems, mathematical formulae like fractals, "crystal chord" technique (chords based on a 3D harmonic model in which three main intervals are constantly repeated) and human breathing, brain wave and speech patterns have played roles in his music, all tempered by a free musical intuition. Ligeti, Xenakis, Stockhausen and Berio are often cited as the composers who have influenced Wallin's musical thinking.
Here is a four-minute piece composed for Tine Thing Helseth, who gave the first performance in Münster, Germany on February 6, 2011. On February 18 of that year she gave the American premiere in Carnegie Hall; tonight she gives the Canadian premiere.
Here (obviously intended as a homonym for hear) refers to the concert hall experience where the constant barrage of technological assaults on our attention are momentarily put in abeyance while we listen to music (Wallin calls attention "an endangered species of our times.") – sanctuaries where the mind is active but not distracted," as Jacob Cooper put it in his Carnegie Hall notes last year. Wallin writes that "this little piece is made in gratitude for these sanctuaries, and it is made in gratitude for amazing musicians like Tine Thing Helseth, who devote their lives to making our attention blossom." Cooper adds that Here "presents a series of phrases, each divided by considerable rest as if to encourage a meditative state. The phrases themselves are usually characterized by a certain focus as well, with grace notes and quick turns presenting a halo around one or two central pitches."
Paul Hindemith, Trumpet Sonata, Op. 137
No major composer has written more sonatas for a greater variety of instruments than Paul Hindemith. There are sonatas for all the expected ones – piano, violin, cello, flute, clarinet, etc., but also for instruments that often get slighted – English horn, trombone, bassoon, saxophone, double bass and tuba. All of these are with piano.
Hindemith wrote the Trumpet Sonata in 1939, a year that also saw the birth of sonatas for violin, viola, clarinet and horn. Hindemith was not Jewish, but by now he was living in Switzerland, exiled from his native Germany because of pressure from the Nazi Party attempting to regulate what was acceptable and unacceptable music. In 1939, Germany annexed Austria, occupied Czechoslovakia and invaded Poland. Perhaps as a reflection of these ominous events, Hindemith's Trumpet Sonata took on a rather somber hue. Hindemith held this sonata in high esteem. To a friend he wrote that "it is maybe the best thing I have succeeded in doing in recent times."
The sonata opens with the trumpet proclaiming a sturdy theme over piano figuration to the performance direction mit Kraft (with strength). Two more ideas are presented, with the movement's eventual form set out in the neatly symmetrical arrangement of A-B-C-A-C-B-A. The second movement has a quirky, whimsical air to it, somewhat like a comical march. The last movement is the longest and the sonata's center of emotional gravity. Entitled Trauermusik (music of mourning), it takes the trumpet, so often used as an instrument of brilliance and pomp and celebration, on a troubled, meditative journey that culminates in the somber intoning of the chorale-theme Alle Menschen müssen sterben (all men must die), which Bach had set as a chorale-prelude (BWV 643).
Edvard Grieg: Haugtussa, Op. 67
As Grieg had studied in Leipzig, it is hardly surprising that he was at ease in following the romantic Lied tradition as manifested in Schumann, Mendelssohn and Brahms. He wrote more than 180 songs, published and unpublished, making them one of the most significant genres in his catalogue. They are largely unknown outside his native Norway, owing largely to the language barrier, but nearly all are imbued with the characteristics that have endeared his far better known works to the public, including engaging melodies, distinctive Norwegian modal inflections and the rhythms of native folk dances. Grieg scholar Robert Matthew-Walker claims that Haugtussa is "Grieg's masterpiece. [It is] certainly one of the greatest song-cycles for the female voice ever written, revealing the composer at the very height of his powers." (Tine Thing Helseth performs the cycle on trumpet with the vocal line virtually untouched.)
Haugtussa (The Mountain-Maid) dates from 1895, the year Arne Garborg's eponymous verse-novel was published. It made a deep impression on the composer, who composed twenty songs (some incomplete) set to Haugtussa texts, eight of which went into the cycle at hand. Although we hear no words tonight, the trumpet nevertheless conveys the essence of the poems. The first song is something of a siren call (the title Det syng is variously translated as "singing" and "enticement"), luring the listener into the mountain-maid's realm. The second song gives a physical description of the girl – fair, young, slender, with deep grey eyes and an impassive, dreamy manner. "Blueberry Slope" is a frisky, exuberant portrait of outdoor life, each of its five stanzas devoted to a different subject: berries, a bear, a fox, a wolf, and, what is really on the singer's mind, "that nice boy from over by Skare-Brôte." She meets him in "The Encounter," which quickly leads to "Love." The "Kids' Dance" is the only song besides "Blueberry Slope" with a frivolous or light-hearted tone, serving as a sort of interlude within the serious business of having a love affair. But the affair is a short one, for already in the following song the mountain-maid has been jilted. In the final song she pours out her heart's sorrow to a babbling brook.
Grieg: three songs transcribed for piano
Grieg made two sets of his own song transcriptions, one in 1884 (Op. 41) and one in 1890 (Op. 52), six in each. Eleanor Bailie, in her volume on Grieg's piano music, remarks that "each transcription takes the form of variations on the melody of the song – the theme set out in simple form, much as in the original, and then embellished, sometimes elaborately, in varied accompaniments. … Grieg undoubtedly loved these songs, and, sensitive to mood and atmosphere as he was, these poems and their melodies evoked some of his most rapt piano music."
The "Cradle Song" has a rather somber cast to it, but its gentle rocking rhythm provides the necessary sleep-inducing agent. "A Mother's Grief," set to the same rocking rhythm, is even more doleful in mood and leaner in texture, as its original text concerns a mother mourning the death of her infant son. "The Poet's Heart," on the other hand, is, in typically Romantic fashion, a turbulent affair set to a poem of Hans Christian Andersen. Surging waves of sound from the piano underscore the imagery of the text, whose theme is the misunderstood poet as a reflection of nature and which includes numerous action words like "swell," "flaming," "longing" and "struggle."
Manuel de Falla: Siete canciones populares españolas
Manuel de Falla was one of the most Spanish of all Spanish composers. He regarded the promotion of Spanish music as his mission in life, and his Siete canciones populares españoles (Seven Spanish Folkongs) are just one of the many manifestations of this purpose. The texts are anonymous, but the tunes have been traced to actual popular songs from all over Spain. De Falla's treatment of the songs ranges from free composition to slight alteration to nearly untouched originals.
Written in 1914-1915 for voice and piano, the Seven Spanish Folksongs were first heard in Madrid sung by Luisa Vela with the composer at the piano on January 14, 1915. The songs were later orchestrated by the composer's friend Ernesto Halffter in 1938-1945 and by Luciano Berio in 1978. Additionally there exist arrangements for violin (by the Polish violinist Paul Kochanski in 1924), viola and cello (by Maurice Marechal) replacing the voice, in which form the songs are known as Suite populaire espagnole. Tonight we hear still another version, with trumpet replacing the voice.
"El paño moruno" (The Moorish cloth) is set to a pulsating Moorish rhythm from the southeastern province of Murcia. The singer (or trumpet player) deplores the stain on the lovely cloth that will cause its selling price to plummet.
"Seguidilla murciana" is also inspired by Murcia, A seguidilla is a moderately fast dance in triple meter. The song's text begins with the famous adage, "People who live in glass houses shouldn't throw stones."
In "Asturiana" a weeping woman seeks consolation under a pine tree, which itself breaks into tears out of compassion. The melody comes from Asturias, in Spain's far north.
From Aragon, another northern province, comes a "Jota" in rapid triple meter about two lovers in a clandestine relationship.
"Nana" is a lullaby from the southernmost province of Andalusia, whose songs have a decidedly oriental cast.
"Cancion" (song) is another love song, this one about eyes with traitorous qualities.
"Polo" is a wailing lament from Andalusia over the heartache of unrequited love. The fiery flamenco idiom will be familiar to those who know de Falla's famous ballet score The Three-Cornered Hat.