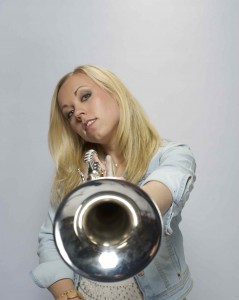 We are looking forward to presenting Tine Thing Helseth in her Vancouver debut this coming Sunday. Tine (pronounced Tin-eh) will be accompanied by pianist Håvard Gimse, and together they will perform the Canadian premiere of a new work for solo trumpet by Norwegian composer Rolf Wallin. Also featured in the recital program: Bohuslav Martinů's Sonatina for Trumpet and Piano; George Enescu's Légende; Paul Hindemith's Sonata for Trumpet and Piano; Manuel de Falla's Siete canciones populares españolas; and a selection of works by Edvard Grieg.
24-year-old Tine is already one of the leading trumpet soloists of her generation. 2011 was a big year for her – she made her New York recital debut at Carnegie Hall in February and followed this with her first ever appearance at London's Royal Albert Hall in March. She also signed an exclusive recording agreement with EMI Classics – her new CD, Storyteller, a collection of songs for soprano and orchestra transcribed for trumpet, has just been released.
Tine gets rave reviews wherever she performs. She was chosen as one of BBC Music Magazine's Superstars of Tomorrow in the March, 2011 issue of BBC Music Magazine. Here's what critics have to say about this exciting young artist: 
"The scales flow like double cream and in the slow movements Tine's trumpet has sublime delicacy." – Classic FM magazine
"The rising talent Tine Thing-Helseth performed with elegance and precision. She was able to display her sweet tone and brilliant technique in their encore, Two Folk Songs by Manuel de Falla."
– Bachtrack.com
"Norwegian trumpeter Tine Thing Helseth in turn lent her gorgeous bugle-like tone to evoke, in the slow movement, a bleak, muted, bluesy, pathos." – The Independent
"Helseth took every opportunity to show what a fine instrumentalist she is." – The Guardian
"Helseth's musicality is a joy." – The Arts Desk
"A new star on the classical music sky…she plays with radiance strong enough to light up the entire hall – her embouchure is light and her technique impressive. Each note is marvellous and her dynamics are based on natural and deeply felt musicality." – Zürcher Landzeitung
And here's what her compatriot Leif Ove Andsnes has to say: "She is not to be missed. She is unique!"
We have put together a collection of great Tine videos on our YouTube channel. Enjoy!