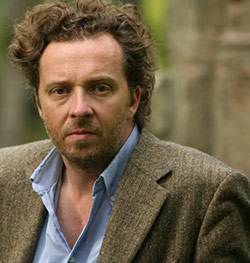 Last night I had one of the most perfect concert experiences of my life. I have been attending a conference of music managers and presenters in Budapest. I discovered that baritone Christian Gerhaher was singing an all-Schubert song recital in the Vienna Konzerthaus. It was sold out, but after 33 years in the concert presenting world, I was able to pull strings and, to my utter astonishment, I became a guest of the Konzerthaus. So, I hopped on a train and headed back to Vienna (where I'd been just the week before) to hear the performance. The distance between Vienna and Budapest seems similar to the distance between Vancouver and Seattle. Except that, of course, one just sails through borders from one country to the next.
The Konzerthaus was packed to overflowing. There were 750 seats filled in the hall with an additional 50 seats on stage. I know this because I asked the Intendant of the Konzerthaus. I also enquired about their wonderful piano and he told me that they select and rent a new Steinway from the factory every two years.
I am guilty of over-using the word "extraordinary", but there is simply no other word to describe Gerhaher's voice (or voices, as he seems to have so many of them). He inhabits the text and the music he is singing. He simply delivered what Schubert intended when he wrote the songs. Nothing more and nothing less. His regular pianist is Gerold Huber and the two of them together are as one. Right down to the tiniest nuance. I can understand why Andras Schiff has chosen to invite Gerhaher to Carnegie Hall for his "Perspectives" Series. And of course, we, at the VRS are the beneficiaries of this collaboration. We jumped at the opportunity when we heard about it.
If you are a serious, discerning music lover you must not miss the Gerhaher/Schiff performance at the Chan on May 14. Don't expect a larger than life personality like Bryn Terfel (nothing wrong with him!) but expect the most perfect delivery of song you will experience for many, many years to come. It is both deeply gratifying and humbling at the same time.
Leila (en route from Vienna to Budapest).