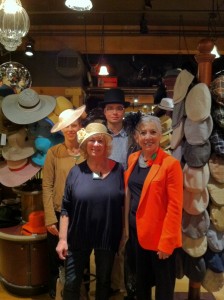 Following their incredible journey through the Beethoven Piano and Violin Sonatas in three concerts for the Vancouver Recital Society, Isabelle Faust and Alexander Melnikov were anxious to blow off excess steam and see something of Vancouver before they left for their next engagement in San Francisco.
So I, as the tour guide, and Allison Hart, one of the concert sponsors and the driver for the tour, set out with the musicians on Sunday after they had changed and packed up. We headed down to Granville Island where the plan was to take them on a quick tour of the market before driving through Stanley Park, and then continue on to West Vancouver, where we were to meet the rest of the Beethoven Project sponsors for dinner.
At Granville Island we re-fueled the musicians with strong coffee and literally ran around showing them the wonders of the market. Then, we walked over to the Net Loft into the craft gallery where Alexander made a purchase. Isabelle walked across the corridor and spied Edie's Hat Shop. "Oh," she said, "I love hats!"  In we went. The young salesman pointed out that the store would be closing in three minutes, to which Isabelle responded, "Oh, you may not want to close in three minutes as you have some serious customers!"
As it turns out, Isabelle has the perfect head and face for hats. Every single one she tried on looked fabulous on her. Meanwhile, Alexander (who is a HUGE fan of Fred Astaire) asked whether they carried Top Hats. And of course, as you can see from the photograph, they do!
We left Edie's hats 45 minutes later having purchased a total of 6 hats among us. Now there was no time to drive through Stanley Park, but we were wide awake from our hat shop adventure and decided to wear our hats to dinner. We turned a few heads, and had a wonderful dinner.
Is this really why artists so enjoy coming to Vancouver?