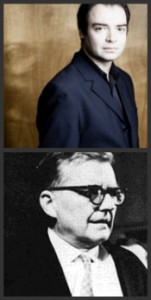 Perhaps it has been a deficiency in my musical education, but I have found it hard to warm to Shostakovich's Preludes and Fugues.
Written in 1950-51 and influenced by Bach and in a lineage of prelude collections by Chopin, Scriabin, Busoni, Debussy, and Rachmaninoff, these works have generally remained on the outskirts of the repertoire.
This is changing however, in part due to the championing of Alexander Melnikov, who will give us a still rare opportunity to hear a significant portion of Shostakovich's Preludes and Fugues on November 13. This will certainly be the first time I will hear more than one or two of the prelude-fugue pairs at one time.
Because of Melnikov's program, and more because I am turning pages for this performance, I thought it incumbent on me to learn more about this great composer's magnum opus.
My new appreciation began with the arrival of Robert Markow's programme notes. He wrote: "In their vast range of textures, figurations, rhythmic devices, characterizations, compositional procedures and moods, Shostakovich's 24 preludes and fugues rank as one of the monuments of twentieth-century piano literature." You can read the full set of notes here.
Alexander Melnikov wrote in the liner notes to his own recording, "we hear the voice of a tormented man, finding again and again the superhuman force to face life as it is – in all its variety, ugliness, and sometimes beauty." Hear more about Melnikov's thoughts on Shostakovich in this video.
There is no doubt all of this is revealed in Melnikov's 2010 recording, which has contributed to a rediscovery of the Preludes and Fugues and the next stage of my appreciation.
Played with "clarity" and "virtuosity and audacity" (The New York Times), the Neo-Classical elements of the pieces resound, and Shostakovich's response to his self-imposed aesthetic restriction is endlessly inventive and inspired (imagine writing in a clearly defined tonal centre in the 1950s!).
Each listening of Melnikov's recording exposes the depth and breadth of these bold works and, as suggested in The Guardian, "Alexander Melnikov makes you wonder why these works are considered monotonous or didactic."
Indeed, I now have to wonder why it is we do not hear these works more frequently, and how it is they have been missing in my musical appreciation. That has all changed in the hands of Alexander Melnikov.
Paul Gravett
Executive Director
Alexander Melnikov performs at the Chan Centre for the Performing Arts on Sunday, November 13 at 3pm. Tickets are available from the VRS Box Office, call Cory at 604-602-0363. Tickets are also available from Ticketmaster either online at ticketmaster.ca or call 1-855-985-2787 (service charges apply).