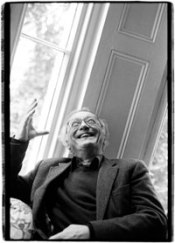 I had the privilege of presenting Alfred Brendel three times during the past ten years and each experience was memorable for a myriad of different reasons.
The first time he came to Vancouver, I remember distinctly sitting in a state of extreme nerves at YVR waiting for his plane to arrive. I so desperately wanted to have someone with me that I called the office at least three times to complain about having to go to the airport on my own.
Mr. Brendel had flown in to Vancouver two days before his concert, to check out the piano and our piano technician, and to practice on the instrument he would be playing two days later.
He is taller than I had imagined, and a true European gentleman. His terrifying demeanour dissipates when he smiles. I had heard that he had friends in Vancouver, so I said to him, "Mr. Brendel, I understand you have friends in Vancouver, so will you want to call them to make arrangements to have dinner with them?" He said "they are not in town at the moment" and before I could stop my tongue, I said "does that mean I'm stuck with you for dinner tonight?" He said, with a large grin on his face, "Yes, my dear, I'm afraid you are".
On a subsequent visit Alfred Brendel came to our home to practice one evening. I had explained to him that we had just had our piano rebuilt and that it hadn't yet been voiced (a very important part of the procedure). He practiced on it for about an hour and a half and when he was done, he said "your piano sounds like an unmade bed".
It is rare to meet someone who has such a wide range of interests and knowledge. From music to wine to food to kitsch. He answers questions in great detail and never talks down. He is NEVER boring. Only fascinating. Listening to him is like reading an encyclopedia.
I would like to conclude with a quote from his fascinating book, Alfred Brendel on Music:
"What is piano playing of genius? Playing which is at once correct and bold. Its correctness tells us: that is how it has to be. Its boldness presents us with a surprising and overwhelming realization: what we had thought impossible becomes true.
Correctness can be attained by the expert. But boldness presupposes the gift of projection, which draws the audience into the orbit of one's personality."
To learn more about Mr. Brendel's thoughts on music, I urge you to attend his illustrated lecture entitled Does classical music have to be entirely serious? This is a rare opportunity to experience the reflections of a truly great mind.
The lecture takes place at Roy Barnett Hall on Friday, October 21 at 8pm. Seating is limited and unreserved.  Pleasure is unrestricted.
Leila