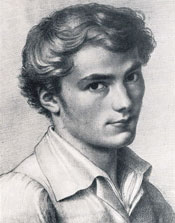 Chubby and short at only 5 foot one inch, Franz Schubert had to endure the nickname "Schwammerl" or mushroom by his friends.
Perhaps these attributes are the reasons for a life unlucky in love, but they are certainly not apparent in the youthful, charmingly handsome 16 year old seen in this portrait by Kupelweiser.
---
Spread the word and save: if you re-tweet or re-post any of our VRSchubert posts, you have the opportunity to save 25% on regularly priced tickets*. Call our box office to reserve your tickets: 604-602-0363.
VRScubert: In anticipation and celebration of Paul Lewis' performance of the Late Schubert Sonatas on October Tuesday, October 23, the VRS is embarking on 23 days of tweets, Facebook and blog posts about the life and work of Franz Schubert and the celebrated interpreter of his music.
Follow us daily on Twitter with the hashtag #VRSchubert, visit facebook.com/vancouverrecitalsociety, or check back in with us each day at vanrecital.com/tag/vrschubert/.