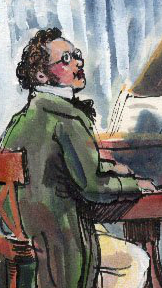 Bringing Schubert closer to young readers, Dutch author and artist Jeroen Janssen and Pieter van Oudheusden are preparing to publish a graphic novel about the last days of Franz Schubert's life.
Fighting a losing battle against death, Schubert's final days are haunted by the ghosts of his past, including Beethoven, his family, and his many secret and hopeless loves. In the feverish brain of a dying man, Schubert's world has turned into a chain of nightmares, each bearing the title of one of his songs and containing fragments of their lyrics.
About The Last Days of Franz Schubert, the author writes, "[this is] a visual song cycle around the major themes of his life, playfully interpreted from a modern point of view – sometimes willfully anachronistic, but always inspired by the love for the man and his music."
On a special Facebook page, the author shares numerous sketches for the upcoming book.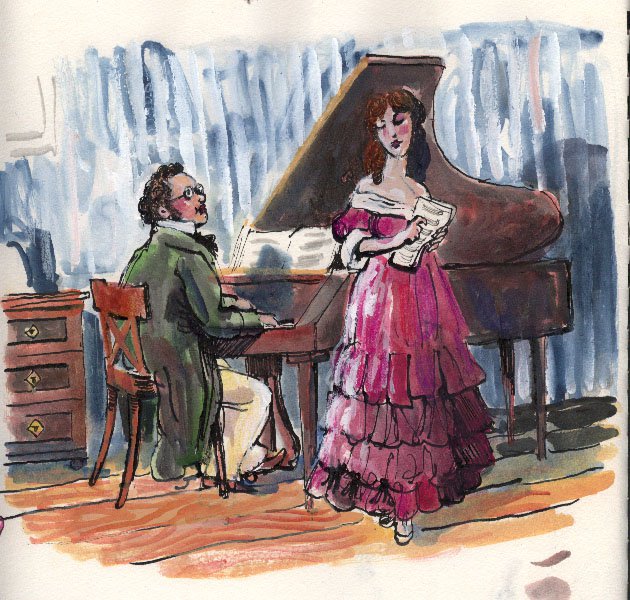 ---
Spread the word and save: if you re-tweet or re-post any of our VRSchubert posts, you have the opportunity to save 25% on regularly priced tickets*. Call our box office to reserve your tickets: 604-602-0363.
VRScubert: In anticipation and celebration of Paul Lewis' performance of the Late Schubert Sonatas on October Tuesday, October 23, the VRS is embarking on 23 days of tweets, Facebook and blog posts about the life and work of Franz Schubert and the celebrated interpreter of his music.
Follow us daily on Twitter with the hashtag #VRSchubert, visit facebook.com/vancouverrecitalsociety, or check back in with us each day at vanrecital.com/blog.