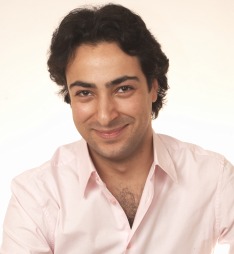 Thank you for taking time out of your busy schedule. Where are you today?
I'm in Hamburg right now, singing my first Verdi role in the opera "Don Carlos" at the Hamburgische Staatsoper.
When did you realize you wanted a career in music?
I was inspired at the age of 17 by my teacher and by classical music that I discovered. I always sang when I was a kid, but only in school and children's productions, and I never thought at that time about becoming an opera singer. I guess it's very rare to hear an 8 or 9 year old child say "I want to be an opera singer!"! I was lucky enough to study as an actor of musical theatre where I received voice, ballet, and acting coaching, and also some training in acrobatics. Honestly, at first I was disappointed because there was too much ballet, and we were dancing three times a week. I started thinking that I was maybe in the wrong place; not because I didn't like ballet, but because ballet didn't like me! One day I remember saying to my friend that I wish I could break a leg, and I ended up doing just that within two weeks (not on purpose of course) which enabled me to concentrate on my voice lessons. This gave me such joy and I discovered the depth and beauty of classical music.
Who are the great influences in your life and in your music?
My family, my friends. In music; composers, my colleagues…
How does your approach to singing and characterization differ when performing a recital versus performing in an opera?
When you sing a concert you are alone on the stage, you don't have any costume for the character, no set design, no light design; basically you have to create an atmosphere for the piece on your own and make it believable and contagious. In an opera production it involves hundreds of people, everything works for the story, and everything helps you to create the right atmosphere. The Director helps to create the character of the role, the conductor – the musical character. Meanwhile in recital you have to do it by yourself. The singer is expected to sing with more colour, nuance and more detail in concert, especially when you sing with a piano. Sometimes the orchestra doesn't give you this opportunity, and everything should be a little bigger. I think it helps your operatic roles a lot when you sing recitals, and visa versa for your recital experience after singing in opera productions. I like both disciplines!
What can you tell us about your Vancouver program?
It's quite an eclectic program, combining different time periods from 17th-20th century, different languages and styles. It's a pot-pourri: a little Russian music, of course, some ancient music, and it finishes with 'Largo al factotum', from Il barbieri di Siviglia. Figaro is one of my favourite roles, and it's actually very hard to find a piece for lyric baritone that makes a good end to the programme. I'm also singing Poulenc's comedic Chansons Gaillards, which is very rarely done, but it goes down well with the audience. It's based on troubadours' songs – young guys singing songs all about sex to the girls. The music is incredibly beautiful and serious, but the words are full of double entendres. I have to try to keep a straight face!
Many in your Vancouver audience likely will hear you for the first time. For those who are not familiar with your singing, how would you describe your performances and concert experiences? (or: for those who are not familiar with your singing, what is the one most important experience you wish to convey through your performance?)
I usually try not to think about the result, and just try to enjoy the process and share with the audience the beauty of this music of such great composers, and to tell the story. It's my hope that someone will find something in common with the stories being told.
What is the concert experience like for you, as the performer?
As an opera singer it's good to do recitals. It allows you to be flexible with your technique. And sometimes you get tired of opera and you want some more intimacy with the audience. There is no decoration, no movement, no costume, no orchestra – you have to create characters on stage all by yourself. For me as an artist it is always important to find a contact with audience. I like this phrase: "You don't step on stage to eat, you go there to be eaten". 
What influence does your Russian heritage and language have on your interpretations and choice of repertoire?
Of course it will be the primary influence in Tchaikovsky's songs and in Onegin's aria, with all the depth of Tchaikovsky's music and Pushkin's poem Eugene Onegin. And it gives me an in-depth understanding of the text.
You are much in demand, and no doubt you travel a lot and often alone. How do you manage to find a balance between the demands on your professional life and your personal life?
It's not easy, but I try not to lose my personal life while pursuing my career. In the end the bigger the personal experiences in life, the more it influences you as an artist, so you have to grow in both directions, personally and professionally.
What are your concert highlights in 2012?
Musically, I'm most looking forward to singing the Antique arias, Barber, Poulenc, Tchaikovsky, Mozart, Rossini, Korngold and some Zarzuelas; which makes up the body of the majority of my recital work.
Thank you for participating in our interview. We are very much looking forward to hearing you in Vancouver on February 26, 2012.
Rodion Pogossov will perform with pianist Mikhail Senovalov at the Kay Meek Centre on Sunday, February 26, 2012.